Today we are going to discuss reaction time.
Lately, I have been fascinated with reaction time and with all of the details that go into improving one's reaction time.
First, let's define reaction time:
This is a picture of the general flow of a reaction. Let's walk through the process with the human.exe benchmark.
First, you wait for the screen to turn green. The green screen is the stimulus. Then the stimulus travels through your retina and into your brain where your brain makes the decision "I need to left-click." Once you've made that decision, your brain sends the electrical impulse down to your finger to command it to press "left-click."
The time it takes for all of this to happen is called your "reaction time."
Now that we know what your reaction time involves, how can we improve upon the internal process? Well, that's what I've been diving deep into at https://remedyrising.com/dekno/ and I've cracked the code.
To understand how to improve your reaction time, you must understand the core factors that impact your reaction time and also the cellular requirements for fast impulse transmission (read "faster reaction times").
From a top-down approach we first have to look at oligodendrocytes.
Oligodendrocytes are a specialized type of glial cell that is reponsible for forming the myelin sheath.

https://en.wikipedia.org/wiki/Oligodendrocyte
"Oligodendrocytes are the myelinating cells of the central nervous system (CNS). They are the end product of a cell lineage which has to undergo a complex and precisely timed program of proliferation, migration, differentiation, and myelination to finally produce the insulating sheath of axons. Due to this complex differentiation program, and due to their unique metabolism/physiology, oligodendrocytes count among the most vulnerable cells of the CNS."

https://www.ncbi.nlm.nih.gov/pmc/articles/PMC2799635/
Without oligodendrocytes, you have no myelin. When your myelin sheath is compromised, it wrecks your reaction time with it.
Now let's look at the myelin sheath.
Myelin is critical for the proper function of the nervous system and one of the most complex cell–cell interactions of the body. Myelination allows for the rapid conduction of action potentials along axonal fibers and provides physical and trophic support to neurons. Myelin contains a high content of lipids, and the formation of the myelin sheath requires high levels of fatty acid and lipid synthesis, together with uptake of extracellular fatty acids.

https://www.ncbi.nlm.nih.gov/pmc/articles/PMC7226731/
Lately I have been really fascinated by reaction time and the many implications that such an arbitrary number could have…In fact, there are whole fields of science dedicated to determining the exact relationship reaction time has in regards to health/intelligence.
"Mental Chronometry" is an example of one of these fields of research. While the science will always have contradicting results, I can say with confidence that my experience with reducing reaction time has led me to feel way better on a daily basis. I feel like everything is better and faster. My thoughts, my ideas, my actions, my words, and my performance. I have noticed a direct increase in my mental faculties as my reaction time decreases.
I am accomplishing way more at 138ms reaction time than I ever did at 155ms. Even if what I've noticed is placebo, I would take it. Because nothing has ever made me perform like this, and trust me I have tried EVERYTHING!
Perform 30 clicks with this tool and figure out your current reaction time https://t.co/G50R8gfTCe?amp=1. Now think about how much better your life would be if you were 5% faster, 10% faster, or even 20% faster. Your reaction time is a direct reflection of the performance of your Central Nervous System!
My VRT Stack Experiment Explained
I took a specific stack of oligodendrocyte and myelin sheath supporting supplements and tracked my progress for 5 weeks. I did about 180 clicks each week for 5 weeks.
On the start of my experiment, my reaction time was 156.362 ms over 179 clicks weighted average.
By the 5th week of my experiment I clocked in at 140.794 ms over 183 clicks weighted average.
That is an 11.06% IMPROVEMENT IN REACTION TIME!
Click Here to download the zip file containing the details and results of my weekly experiments and to check my notes and screenshots of my progression.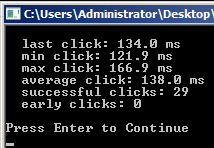 Interesting to note: I took that stack for 2 months and now I have been 2 months without it.
My experience shows that the results may be long-lasting as just the other day I hit this PR.
Don't sit there wondering what having an improved reaction time could do for your life. Come experience it for yourself:
Check out – "8 Proven Tips to Improve Reaction Time,"
Or join the inner circle at "DE-KNO"
P.S. The "VRT Stack" is only a small fraction of the knowledge contained inside of DE-KNO 😉
Whatever you decide, be sure to act with SPEED!
Peace,
-Mach1ne