Don't Wait, Lift Weights: Matt
Subject: Exercise
———–
Exercise and diet go hand-in-hand.
Some professionals actually place more importance on diet than on training.  They claim that diet is responsible for 85% of your physique.  Personally, if I am not exercising, then I have no desire to eat healthy.  As long as I maintain a consistent workout schedule, eating healthy is a piece of cake. 😉
There are many different workout routines and exercises available.  The type you should do depends on your goal: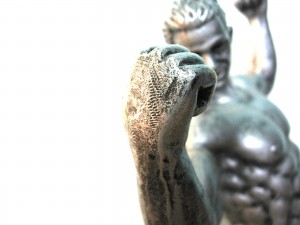 If you are an athlete, then you will need sport-specific training.
If you are a body builder, then you will be working out to gain size and symmetry.
If you are a weightlifter, then you will be working out to gain strength.
If you are the average person, then you are working out to live longer, look better, and feel great.
Exercise for the average person.
If you follow my plan, exercising for health and aesthetics is the least time demanding approach.  But this does not take away from its effectiveness.
A simple exercise plan that I recommend is a mere THREE workouts a week.  The best part is that I don't spend more than 20-30 minutes per workout…and I still have a body that my wife fawns over.
Exercise #1:
One of the exercises is HIIT(high-intensity interval training).  In this exercise you are required to sprint at ~80-90% speed for 20-30 seconds, 6 times.
In other words you will be doing 6 sets of sprints.  Each sprint lasts 20 seconds(for beginners).  After each sprint, you rest for 1 full minute.  This exercise goes as follows:
Warm-up – 10 minutes
Sprint – 20 seconds
Rest- 1 minute
Repeat 2 & 3 -Five more times
Cooldown  
Finish.  Congratulations, give yourself a high five because you are awesome.
You can also do a variation of this on a treadmill, an elliptical machine, or a stair climber.  Just follow the same guidelines illustrated above.
I prefer doing sprints outside due to the benefits of increased oxygen(from plants) and beneficial sunlight(vitamin D), but I still do sprints on my elliptical machine as well.
Sometimes I like to switch it up and do my sprint workout on the steepest hill I can find.  It is so much fun…and painful.
Now, let me give you a run-down on the benefits of sprinting:
Vastly increases HGH – Growth Hormone

(coming soon)

, and as we learned in Eat for Life, Fat Loss, and Muscle, HGH is responsible for blasting fat cells, building muscle, and improving recovery.  It is the

Youth Hormone

.  Do you remember what else increased HGH? Hint: It rhymes with "Fasting."  Which is why I recommend doing sprints in a fasted state, such as upon waking, and then doing a long cooldown of walking to amplify this HGH release.  Carbohydrates can interfere with HGH release, so they should be avoided until later in the day.  I highly recommend drinking a KeVita  post-sprints, the feeling is amazing.
Fat loss.  Sprinting sends fat cells straight to the incinerator and burns those little globs right off your body.  Sprints are arguably the best way to lose fat. Period.
Improves resting metabolic rate for 24 hours after the exercise.  What this means is that after sprinting you get to enjoy the benefits of your hard work the whole next day as well.
Improves insulin sensitivity – send those carbs where they belong – into your muscles!
Improves cardiovascular fitness  better than slower, longer distance running.
Sprints vs.  Regular Distance Running
First, I want you to envision a side-by-side comparison of a distance runner and a sprinter.  What do you think of when you see that distance runner?  Do you see somebody who is  just skin and bones?   Now lets think about the sprinter. The sprinter is much more muscular.
This happens for various reasons but one of the major ones is that chronic distance running results in high levels of cortisol, the stress hormone(coming soon).  High levels of cortisol cause so many problems that it has an article dedicated to it.  For now,  just know that it interferes with fat loss and muscle growth.
One of the main reasons that I never had a body like I do now is because I was always doing some kind of long distance running.  I ran track and cross country all throughout high school, and then even later I was still guilty of doing long runs because it was all I knew.
I was not aware that my chronic cardio was preventing me from achieving the results I desired.  The whole time I thought I was doing good, but in reality I wasn't.
Live and learn, right?
Exercises # 2 and 3:
The other two exercises will be the same.  A full-body routine.  These exercises involve doing 2 sets of pull ups, push ups, and squats until failure.  What is failure?  Failure is when you could not possibly do another repetition, even if you were given one million dollars to do so.
Pull ups.  To do these at home, you'll probably need a Pull-Up Bar.  If you are unable to do a pull up, then don't worry.  You can use a chair to stand on and then you can use your legs to gently assist your arms in pulling yourself up. You can also do what is called a "negative" rep.  This is where you only focus on doing the lowering portion of the pull up instead of the pulling up portion.  This is beneficial because you are stronger during the "negative" phase and this will kick start your way to being strong enough to do pull ups unassisted.  This was the same thing I did when I was unable to do a pull up by myself.  Now-a-days I am able to do pull ups while wearing my weighted vest.
Push ups.   I don't think I need to explain push ups.
Squats. These will hurt the most but give you the greatest benefit.
Why do you need to do full-body exercises?
To build muscle.  Having more muscle means you burn more calories at a resting state.  So more muscles means an easier time staying lean.  These muscle-building exercises also increase HGH and raise testosterone.
---
Don't worry ladies, testosterone isn't a bad thing.  To be healthy, Women need a certain amount of testosterone, just like Men need a certain amount of estrogen.
Many girls shy away from weights because they are worried they will look like those manly muscle woMEN in body building competitions.  Well you won't look like that.  It takes injecting testosterone and steroids for a girl to reach that level of manliness.  Jamie Eason is a perfect example of a female that lifts weights and doesn't look like a dude.
---
Extra Credit Activities

:

On days that you don't workout you are encouraged to engage in some kind of activity.  You can choose to walk, play a sport,  chase the kids around the park, do some lawn work, hike, bike, do yoga, stretch, or play hide and seek.  The possibilities are endless.

•If you want to jump start your weight loss, you can do 20-30 minutes of cardio(running) on two of your non-workout days.  Once you reach your desired weight, definitely switch over to walking.

•The best activity you could do is to use a Sauna(coming soon).  I am very excited about the benefits of sauna usage, which I just recently learned.  

Oh and more importantly, we can't forget about my favorite extra credit activity:  sex.  😉

Be sure to read my book Going 100. I go into more detail and even provide synergistic twists to these exercises among much more.
Exercise: Why Should I?
Anybody that is looking to add years to their life, not have to worry about the "pains of aging," and avoid costly doctor bills along with the poisonous prescription drugs should immediately make exercise and diet a high priority.
You really have no excuse.
Don't watch TV, don't smoke that joint, and don't say you'll do it tomorrow.  Get up off of your lazy ass, suck it up, and just do it.  The only regret you'll have is that you didn't start sooner.  Don't wait.  Your body is a temple, and you need to worship that shit day-in and day-out.
«

"People don't slow down because they grow older,

they grow older because they slow down.

"

–

Me

»
What do I mean by this?
I put a little twist on the common belief that most people hold.  Most aging people suffer from joint problems, weakness, weight gain, and all of the other "pangs of aging."  They blame this on the aging process.  They believe that growing old means you must suffer these common things.
I don't believe this.  I firmly believe that people suffering from these problems at some point gave up on themselves and decided to "slow down."
Think about it…
I know many people who at one point in their lives were very fit.  What made them fit?  Sure, hormones have a part, but more importantly they were active.  Very active.  Engaging in weight lifting routines, sports, and play daily.
As these people get older, they abandon their high activity lifestyle and begin consuming terrible foods with no remorse.  They become sedentary.  Overtime their bodies begin to reflect their lifestyle choices.
But for most of these people it isn't because of their lifestyle choices that they look that way and have those problems…nope.  It is because they are aging.  Age is the terrible thing that is bringing them down.  Of course it has nothing to do with the fact that they don't exercise or eat healthy anymore, right? – Obviously I'm being sarcastic.
Health has everything to do with your daily activities and dietary choices.
There are two types of aging.  
Chronological Age – This you have no control over.  As time passes, your chronological age goes up.  This is your "age number."  This is your answer when people ask "Hey, how old are you?"  Chronological aging has marginal impact on your …(wait for it…)

Biological Age

–  This you have control over.  This term refers to the health of your cells, which is a direct result of your lifestyle.  Person "A" who exercises and eats right will have a lower biological age than Person "B" who does neither of these.  

Person "A" will appear to be younger

than Person "B," even if both of these people are the same Chronological Age.
In case that was confusing, let's take a look at Mr. Sam Bryant Jr.  Sam is 71 years old(chronological age), but he looks MUCH younger(biological age).  He uses no steroids.  He started working out at the ripe age of 44 and hasn't stopped since.  He is a true inspiration.
"Age is just a number." – Sam Bryant Jr.
Sam holds the same belief that I do about aging.  He believes that it is all in your head.
If you think you're old, then you will be.  If you think you're young, then you will be.
Where the mind goes, the body follows.
In an interview Sam said that people come up to him and say "Oh, just wait till your my age" lol.  He then proceeds to tell them his age and the person walks away embarrassed.
The only way that time is the enemy is in the form of toxin and waste accumulation.  It is possible that we slow down on a cellular level if our body can not keep up with the removal of wastes that begins from the moment we are born.
This is where I believe fasting(coming soon) plays an important role.  When we fast, our body finally has a chance to direct its energies towards healing and removing toxins through a process known as autophagy.
In the experiment where a biologist was able to keep a cultured chicken heart alive for 34 years, he attributed cellular aging to waste accumulation(cellular age = biological age).
By maintaining proper nutrition and waste removal, he was able to keep the chicken heart alive indefinitely.  He only ended the experiment so he could publish the results. This brought about the theory of cell immortality(source)
Living a long, healthy life is an overarching goal of mine.  I am constantly exploring exercises, ideas, nutrition, supplements, lifestyle choices, and anything else that will make longevity possible.
This brings me to my next topic, which is almost always neglected in mainstream health advice:  internal energy(coming soon).
Internal Energy
What the hell is internal energy?
Internal energy(coming soon) is essentially your life-force.  Different cultures give this energy different names:  Qi, Chi, Prana, etc.  For the most part, they are referring to the same thing.  This may seem like a mystical topic, but it does hold logical implications.
It is easier to understand if you view internal energy as your internal electricity.  It is well established that we produce electricity within the body.  I mean..what do you think electrolytes are?  Hint:
"Electrolytes are minerals in your blood and other body fluids that carry an electric charge(source)."
Ok big whoop, our body has electricity in it.  Who cares?
You should.
Kirlian photography shows that living things produce an electrical aura.  The size of the aura represents the health of the organism.  This energy field that surrounds living things is used by traditional chinese medicine to heal people.  Problem areas will show up with lower energy fields, or smaller auras.
Physical exercise and good food increase your internal energy levels, but a direct way to power up your energy levels is through Chi Kung Training.
You've probably heard of Tai-Chi.  Tai-Chi is a form of active meditation that uses different poses to strengthen and circulate this internal energy throughout the body.  It is pretty moderate and a good place for beginners.  You can find courses for Tai-Chi for free on Youtube.
I have tried both free and paid-for programs that are designed to raise your internal power, but there is only one that I recommend.  It is very effective and produces results quicker than any other program I have found to date.
You will have to wait for my internal energy(coming soon) article to find out which program it is. 😛
What can you expect from chi training?
You can expect more energy, better focus, stronger will power,  a calm sense of clarity, increased confidence, and better immunity to name a few.
That concludes today's article.  Now you know how to exercise.
Be sure to read "Best Diet and Best Exercise, Hands Down!" as a follow up to this article.
---
Also, as of 2/6/15, I started a new bulking protocol.  My beginning weight was 158 lbs and my ultimate goal is 190 lbs.
---
Thanks for reading.
Love, Peace, and Lift
-Matt