A powerful pre-workout drink… what could it be?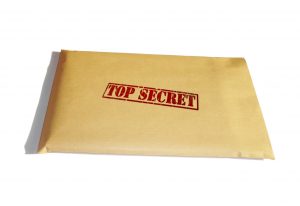 Hey guys, today I am going to share the top-secret, powerful pre-workout drink that I have been fueling my body with for the past two months.
I was searching for something that could keep me anabolic, not make me feel stuffed and sluggish, yet still have energy to barrel through any obstacles.
I couldn't find it, so I had to make it.
Let's get down to business, shall we?
---
It may appear to be a random assortment of ingredients, but trust me: they were chosen for their power and efficacy.
Here they are:
Powerful Pre-workout Drink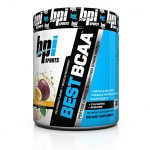 1. BCAA Powder – I started with BPI BCAA, but later switched to Bulk Supps BCAA powder to save money.
Why BCAA's?  Bcaa's are essential amino acids, meaning they have to be obtained through the diet (or supplementation).
One of the best things about Bcaa's is that they activate the mTOR pathway, specifically through leucine.
This activation of the mTOR pathway is what gives us the anabolic, muscle-building state that we want.  It increases protein synthesis (S).
Increased protein synthesis means faster recovery times after workouts, helping you get back into the gym to kill it again.
Also I should note that according to this study, the use of intranasal insulin (yes, insulin sprayed up your nose)- which is fascinating and you can learn about HERE – reduces circulating BCAA's in the blood.  This is a good thing, because elevated BCAA levels in the blood is linked to obesity(S).
So this study seems to suggest that intranasal insulin could potentially make your BCAA's more effective…Synergy, my friends.  
BCAA's are the foundation to the powerful pre-workout drink.
---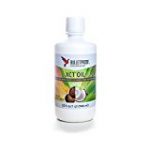 2. XCT Oil – I use Bulletproof XCT Oil as my source of MCT's.  I have not yet experimented with other brands.
If you know of a comparable product, please share with me in the comment section below!
As you should already know, I am a fan of the keto diet.  If you didn't know, then read "Ketosis – More Than a Diet."
This specific product contains caprylic(c8) and capric (c10) MCTs(medium chain triglycerides).
 These are converted into ketones in the liver where they are either used for energy or excreted through the breath or urine.  They are not stored in the body.
Ketones also prevent muscle wasting and give your cells a clean source of super fuel(S).
Excerpt from "Mitochondrial Biogenesis – Fix Your ATP, Fix Your Life:"
" (Ketones) are shown to increase mitochondrial respiration (energy production), increase the NRF-2 antioxidant pathway, decrease reactive oxygen species, decrease anxiety, decrease markers of brain atrophy, be neuroprotective, increase glutathione(the master antioxidant), decrease inflammation, upregulate stress response genes, and increase mitochondrial biogenesis(though maybe not through PGC-1α)(S,S,S)."
You can benefit from the power of this MCT oil even if you are a chronic carb consumer.
Remember, it's not ecstasy – it's XCT.
---

3. High Quality Fish Oil – I started with OmegAvail Fish Oil, but am currently trialing the cheaper Wild Fish Oil brand.  The former tastes better, but the Wild Fish isn't bad either.
Everyone and their grandma has heard about the benefits of fish oil…but for the purposes of this stack, it also increases protein synthesis -possibly through the mTOR pathway(S).
Fish oil users report reduced soreness after exercise (S).
Fish oil increases brown adipose tissue which leads to a higher metabolism and a leaner bod(S).  Scroll down to "5) Cold Exposure" to learn more about the benefits of increasing brown fat.
Increases insulin sensitivity(S).
So now we have healthy fats and amino acids in our powerful pre-workout drink. Let's keep going.
---
4. Beta-Alanine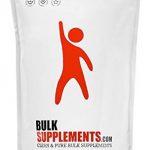 – I stuck with the Bulk Supps Beta-Alanine for this one.
This one is a supplement I've always heard great things about, but never tried.  I guess it wasn't "exotic" enough for me.  But I'm glad I finally took the plunge.
Beta-alanine raises muscular stores of carnosine, which helps to buffer hydrogen (H+) ions that accumulate during a tough workout.
This rise in hydrogen changes the cellular pH, ultimately resulting in decreased performance.  Beta-alanine balances this equation, allowing you to push past your limits.
According to Examine.com's analysis :
Beta-alanine appears to be best for exercise that lasts between 60-240 seconds (periods where the Hydrogen ions start to build up.)
In a variety of studies, the beta-alanine groups saw an

increase in lean mass gain

while the control groups did not.
I do a sprint workout once every week, so I am very familiar with lactic acid and those pesky hydrogen ions decreasing my performance.  Since I've started taking beta-alanine, the lactic acid no longer slows me down midway through my workout.
Now the fatigue starts to set in on my 5th and 6th sprint, opposed to my 3rd and 4th.
You can read about my exact sprint workout routine HERE.
---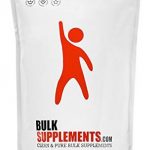 5. Creatine – Again, the Bulk Supps Creatine has my dollar.
Creatine is one of the few supplements that has proven to be effective, time and time again.
In fact, the International Society of Sports Nutrition states that
" creatine monohydrate is the most effective ergogenic nutritional supplement currently available to athletes in terms of increasing high-intensity exercise capacity and lean body mass during training," and "at present, creatine monohydrate is the most extensively studied and clinically effective form of creatine for use in nutritional supplements in terms of muscle uptake and ability to increase high-intensity exercise capacity."
Seems legit.
Creatine also acts as a pH buffer and increases a cell's ability to resynthesize ATP from ADP during energetically demanding times(S).
In the short term you can expect increased power output and strength.  With sustained supplementation you will see increased muscle creatine levels, lean body mass, power and strength, sprint performance, and muscle diameter(S).
"Over several weeks or months of training, subjects ingesting creatine monohydrate typically gain about TWICE as much body mass and/or fat-free mass (i.e., an extra 2 to 4 lb of muscle mass during 4-12 weeks of training) than subjects ingesting a placebo(S)."
In this study, the combination of creatine with beta-alanine was shown to significantly improve lean body mass and fat composition more than either supplement on its own…Synergy, my friends.  
---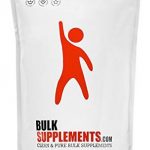 6. L-Citrulline – You guessed it, Bulk Supps L-Citrulline DL-Malate.
This was another new supplement for me.
I've mentioned it before in  7 Ways to Boost Nitric Oxide Naturally, but I haven't tried it until now.
Citrulline was chosen over arginine because it is better absorbed and able to raise arginine levels higher than taking arginine itself(S)!
By raising arginine, citrulline boosts nitric oxide levels.  You can read about the benefits of nitric oxide in my article "5 Reasons Nitric Oxide is Important."
Basically, more nitric oxide means greater vascularity and blood flow.  This helps deliver more nutrients to the muscle and hasten the removal of waste products.
This study suggests that increasing arginine levels also raises the muscle building Growth Hormone and IGF-1 after weight training!
After taking this, I have experienced some skin-stretching pumps that would even make Arnold Schwarzenegger envious!
---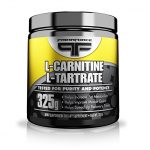 7. L-Carnitine L-Tartrate – I switched it up on you! I went with PrimaForce L-Carnitine L-Tartrate for this one.
The reason I chose PrimaForce over Bulk Supps, was because I read a lot of reviews saying that bulk supp's LCLT had a fishy taste to it.  It might not have one.  I'll never know, but that's why I didn't try it.
Carnitine's basic function is transporting fats into the mitochondria(S).  For this reason, it is often touted as a fat burner.
However, I personally take it because of its effect on androgen receptors!
L-Carnitine L-Tartrate (LCLT) is shown to increase androgen receptor density without exercise and have an even greater effect when combined with resistance training(S)(S).
You could have all the testosterone in the world, but what good would it do if you didn't have any androgen receptors for it to latch onto? Not much(S).
---
Summary
Together these ingredients form the perfect, anabolic, and powerful pre-workout drink that allows me to blast through my workouts.
The best thing about these ingredients is that they are actually supported by research and they work.
If they don't work for you, then you are a dirty little liar and you should go back to your "Cellucor C4."
I've experienced noticeable lean mass gains and big strength gains since I've started taking this powerful pre-workout drink.  I think you will too.
Dosing Protocol
BCAA –  5 grams
XCT Oil – 1/2 tablespoon
Fish Oil- 1/2 teaspoon
Beta-alanine – 2.5 grams
Creatine – 5 grams
L-Citrulline – 6 grams (1 gram with morning dose, 5-6 grams with pre-workout dose)
LCLT –  1 gram
Here's what I do:  During the first month I drank the above mix twice a day.  Once in the morning, and once before my workout.
I mix it with flavored water.  Unless your taste buds are non-existent, then I suggest you do the same.  This Flavored Stevia works perfectly, but feel free to try whatever.
Once you start feeling your skin tingle, that's when you know you are ready to crush your workout.  It is a harmless side-effect of the beta-alanine.  You learn to like it.  If not, you can dose beta-alanine in smaller amounts throughout the day to avoid this.
After this first month, you can reduce your dose of creatine and beta-alanine by half.
Roughly Estimated Monthly Cost
BCAA – $7/month
XCT Oil –  $17/month
Fish Oil –  $5/month
Beta-alanine -$6/month
Creatine – $4/month
L-Citrulline -$8/month
LCLT – $5/month
Total cost: $52/month.
It may seem like a lot, but you are getting so much more of these powerful ingredients by buying them in bulk than if you were to spend $30 on something like Cellucor C4.
Alternatively, you could drop the dosage to 1 time a day to cut the cost to $26/month and even further if you only took it pre-workout -3 times a week for $10/month.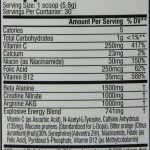 As you can see, with our blend you get 3 times as much beta-alanine, 5-10 times as much creatine, and 6-8 times as much nitric oxide boosting power from l-citrulline.
I recommend trying this whole stack the way I described so you can truly experience its raw power.
After a month, feel free to lower the dosages so you can save some extra money without sacrificing too much power.
---
Bonus Additions
If you want to take this stack to the next level, then you do have a couple of options.
Caffeine pills – An obvious choice, and a staple to most pre-workouts you find on the market.  Another option is to buy a blend that has l-theanine included.  Smarter Vitamins: Focus combines caffeine with l-theanine in the recommended 1:2 ratio along with bioperine and grapefruit seed to make it more bioactive.  L-theanine is good for boosting alpha-brain waves and smoothing out the effects of caffeine, especially for those who get jittery after taking caffeine.
Teacrine(Theacrine) – This is a relatively new caffeine alternative.  It is structurally similar to caffeine and has comparable effects.  The amazing thing about theacrine is that it doesn't cause any tolerance formation – even after 7 days of use(S).
Panax Ginseng – Here is another time-tested adaptogen that is also found in many energy-related supplements.  Solgar makes a mean ginseng product that is known for passing Consumer Lab's rigorous test.  Ginseng also boosts nitric oxide as I mentioned in "7 Ways to Boost Nitric Oxide Naturally."
These additions are not required.
To give you an example: during my first month on this stack I had 4 DJ gigs every week, on top of working my normal morning job.  I was tired, and not sleeping near enough.
Despite the complete lack of motivation to workout, I did it anyways.  I did it out of necessity.
I was dead tired every time I hit the gym.  However, as soon as I started lifting – I had all the power I needed.  The motivation came rushing to me, and I crushed each workout.  What a good feeling.
I came to the gym dreading it, but left loving it every single time.
The morale of the story is that you don't need stimulants to get something done, you just need to do it.
"It is the act of doing, that gets stuff done."
Let me know how this powerful pre-workout drink works for you, I would love to hear your results!
---
Updates
What's new with me?  Well I've been really into FERMENTING recently.  Fermenting all sorts of veggies: salsa, cabbage, ginger, and now lemons.  Fermenting is the future!
I am reading Sacred Herbal Healing Beers, and I look forward to making some healthy beer that doesn't use feminizing hops.
I'm also trying to wrap my head around this phenomena called "high meat."
It is basically people that let meat decay and then eat it weeks to months later, claiming that it gives them a euphoric high.
Imagine blending that in with the powerful pre-workout drink! Ha.
Recipe borrowed from Rawpaleodietforum:
"High meat by Aajonus:
"Place 1 volume pint of raw meat, chopped into bite sized pieces, into a glass quart jar: equal air and meat space. Place Ball jar lid on jar tightly and place in refrigerator. I suggest three jars be prepared; one with raw meat, one with natural raw fowl and one with ocean wild caught raw fish. Every 3-4 days take the jar outdoors, completely remove lids and wave the jars in the air to exchange the air inside the jars. Return lids to jars, tighten and return to refrigeration. After 4 weeks, you may begin to eat one marble sized piece once or twice every week. There are approximately 17 stages of bacterial developments. Airing the meat is required to progress the bacteria through the stages….."
Is our society's serious sanitation strategies secretly sending us to our demise?  Are the powers that be shaming the symbiotic relationship we share with bacteria to keep us from thriving?
That's a discussion for another time.
Meanwhile, stay strong and healthy my friends.  Live every moment to the fullest.  Don't wait until tomorrow to do what you can do today.
Hopefully you learned something new and useful that you can incorporate into your life.
What's in your powerful pre-workout drink?
-Matt
---
Photos By: